Albany, NY – August 15, 2017, Allied Mineral Products of Columbus, OH has entered into an agreement with Blasch Precision Ceramics of Albany, NY as the exclusive distributor of the Blasch engineered CeraLoop™ Channel Furnace Lining for use in the zinc, galvanized alloys, brass and bronze markets worldwide.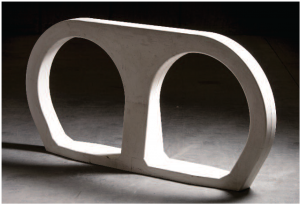 Blasch manufactures ceramic components for the Molten Metal industry including the Powder/Atomizing and Alloy Production markets. The CeraLoop Channel Furnace Lining is a perfect example of Blasch's engineering and material capability, proving that Blasch can customize and engineer its products to fit anyone's specific process needs.
Blasch and Allied have had a relationship for approximately 20 years, working together at different capacities within the Molten Metal industry. Blasch's CeraLoop Channel Furnace Lining is a single component that will be added into Allied's inductor technology systems and sold together as a complete system.
"By bringing together Blasch's engineered, complex shape making technology and Allied's product application expertise, we will now be able to offer a complete system to allow customers to attain better performance in their channel induction furnace inductors," stated Jack Parrish, Blasch President and COO.
"Both Blasch and Allied operate on the leading edge of industrial ceramics technology in their respective fields of expertise. This strategic partnership, in this very critical application, has the opportunity to provide a unique and comprehensive solution to our customers," stated John S. Halsted, Jr. Executive Vice President International.
About Blasch Precision Ceramics
Founded in 1979, Blasch Precision Ceramics provides innovative solutions for the world's toughest refractory applications. Blasch produces premium quality net shape refractory ceramic shapes and systems for a variety of manufacturing and process industries throughout the world, including aerospace metal processing, chemical processing, petrochemical refining, power generation, non-ferrous metal processing, industrial process heating, mining, minerals processing, cement and wear.
For more information, visit Blasch at www.BlaschCeramics.com.
About Allied Mineral Products
Since its founding more than 50 years ago, Allied Mineral Products has grown into a global company and leading producer of monolithic refractory products, serving multiple industries with a commitment to providing exceptional service and top quality refractories and precast shapes. Allied's innovative product solutions are backed by their expert research and engineering teams. Their unique product testing and engineered design solutions, and an active new product development program, allows them to meet the unique needs of each customer.