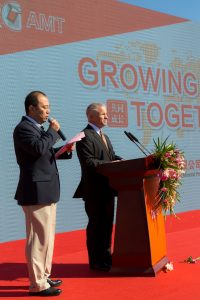 Allied Mineral Products has launched a new Chinese-language website. The website, alliedchina.com, targets the local business market in China while actively engaging existing customers.
In Northern China, Allied's manufacturing facility in Tianjin celebrated its 20th anniversary last year.
General Manager Ben Ge said, "After serving the China metal industry more than 20 years, Allied Mineral Products is one of the major monolithic and precast shape refractory suppliers in China. We continually invest in human resource, manufacturing and research in the last 20 years. This allows us to expand our business and develop new market for the company."
As with each location across the globe, Allied's Tianjin facility produces high-quality products to the same standards used at the main campus facility in Columbus, Ohio.
"Allied China has become an important part of Allied Mineral Products," said Ge. "We will continue our investment in China. This new website will help expand market influence and give us more business opportunity."
To learn more, visit alliedchina.com.